Guerrillas and Combative Mothers: Women and the Armed Struggle in South Africa
Keywords:
Women, Apartheid, SANDF, MK, Soldiers, Military
Abstract
Siphokazi Magadla's Guerrillas and Combative Mothers rests on 40 life histories of women who joined armed struggles of many kinds to fight apartheid. The book is a result of her doctorate which in turn rests on work she did while being a research consultant at the Institute for Security Studies. In 2010, on the tenth anniversary of the United Nations' (UN's) adoption of Resolution 1325, Magadla and Chery Hendricks produced the documentary Women and Security Sector Transformation in South Africa (2010). Magadla interviewed Major General Ntsiki Memela-Motumi, then chief director of transformation management in the South African National Defence Force (SANDF); Thandi Modise, a previous chair of the Portfolio Committee on Defence in the National Assembly and; Mala Singh, former deputy national commissioner of the South African Police Service (SAPS). Memela-Motumi and Modise are both former combatants in Umkhonto weSizwe (MK). They provided rich accounts of how their experiences as women in MK informed their later roles in transforming the SANDF. However, the study also has a prior genesis in Magadla's own experience of being the daughter of a soldier in the Transkei Defence Force. He ended his military career at 40 after that force was integrated into the SANDF. Her mother, a psychiatric nurse, also made her aware of the unstable mental conditions of many soldiers who were demobilised from the various armed forces in the period around 1994. This personal knowledge plus the experience of working with the Institute for Security Studies (ISS) gives the impetus for an important study. It is a study arising out of the complicated and turbulent moment in time when seven armies were integrated. These seven armies include the South African Defence Force (SADF), MK, the Azanian People's Liberation Army (APLA) and the four 'homeland' armies. This was a period in which those who had chosen to fight apartheid were faced with the question of whether they were career soldiers or not; and whether a return to civilian life was possible now that there was no longer a war.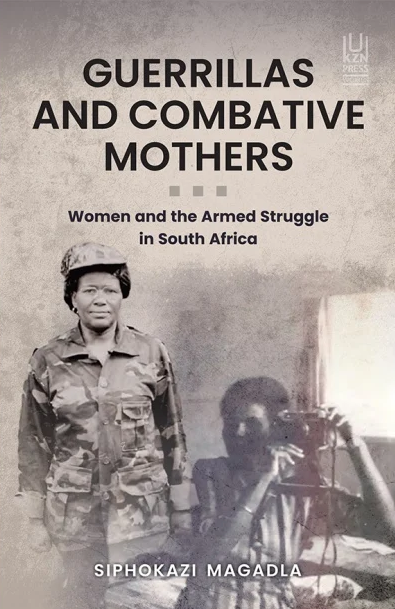 Downloads
How to Cite
Garman, A. (2023) "Guerrillas and Combative Mothers: Women and the Armed Struggle in South Africa", African Journal on Conflict Resolution, 23(1). doi: 10.17159/ajcr.v23i1.16788.
License
Copyright (c) 2023 African Journal on Conflict Resolution
This work is licensed under a Creative Commons Attribution-NonCommercial-NoDerivatives 4.0 International License.